Email Deliverability sent from Zoho CRM and Zoho Campaign
Email Deliverability rate and sender score is crucial to generating more high-quality leads.
Zoho provides email authentication standards that allows the organizations to increase the trustworthiness of an email's origin when they choose to send emails from Zoho using their domain.
To authenticate your emails sent from Zoho CRM, you need to validate the following authentication standards here: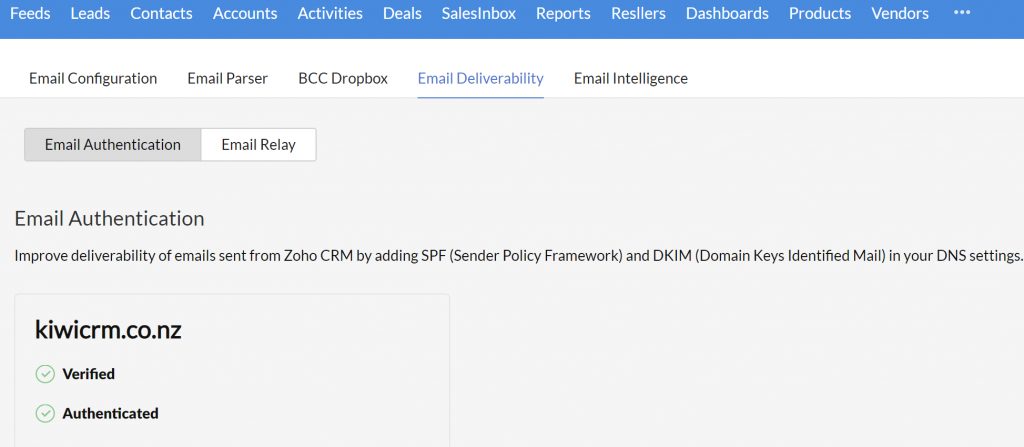 * This type of set up should be done only once and could be a bit complicated if you hadn't done it often like we do, so you can leave it up to us to set it for you.
** What we would need from you is the credentials (User and Password) of where you bought the domain that you like us to validate for you.
*** If you are curious what this setup is all about, please check those links DKIM & SPF.
Here are some guidelines to improve the email deliverability of your emails sent and to make sure it does not go to "SPAM":
Ask your clients to add your sender addresses into their contact list or Address Book.
Set up your email content with a visible call to action button that correctly leads to your target webpage. Always use a button instead of a hyperlink, preferably one with a small click animation.
Position your button where your recipient can see it without scrolling (above the fold) so that it's convenient for your recipients to click it.
Use verbs that describe the action you want your recipients to take, such as 'Shop', 'Learn', 'Get', or 'Submit', instead of the same old 'click here' phrase to make your call to action button feel more engaging. (You do partially)
Of course, demographic factors such as gender, occupation, age, and income level will dictate the content of your campaign.
Analyzing the above factors and framing more specific content for corresponding target groups can yield higher response rates.
For example, target your premium level customers when you're campaigning about highly-priced products.
Before you send a wide-reaching campaign, try to get some testing in so that you can get better insights into what works and what doesn't. A/B Testing is a great way to determine the success of your email content.
Click here to explore more techniques to make the most out of your emails.
Most people check their emails on their mobile phones. So, your email campaign should be compatible with all portable devices. Be succinct with your subject and preheader content, as space on a mobile device is at a premium.
You can utilize some online services (as shown in the image below):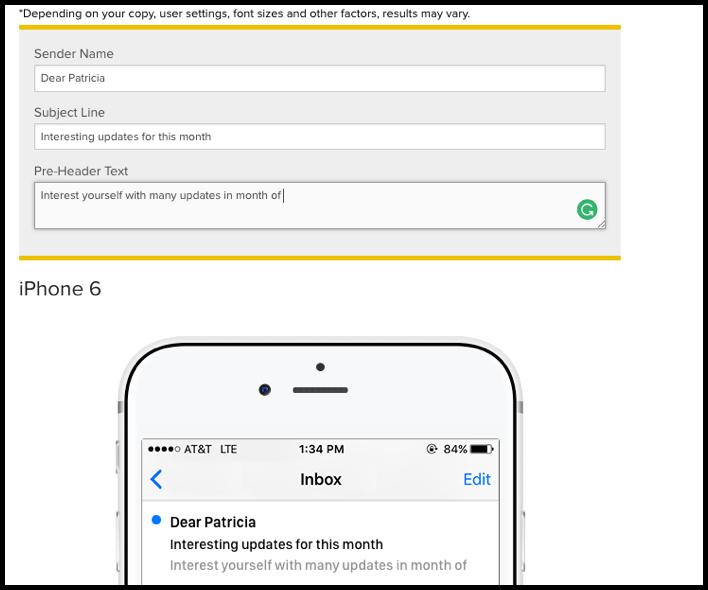 to see how it appears on your recipients' devices. To learn how to test emails for various devices using Litmus through Zoho Campaigns, click here.
Open rates depend mostly on how your subject line is framed. At first glance, the subject says more about your intent and organization than your email content.
The best thing you can do for the success of an email campaign is to frame it with an irresistible subject line that can never be left unclicked.
Maintain the ideal 60-40 text to image ratio. Include images in all campaign because Emails with images have higher click rates than without. (something that you don't do at the moment).
What's the best time to send email?
Your open rates will be higher if you send your messages when your recipients are actually looking at their emails.
Depending on where you're sending messages to, your recipients are more or less likely to open an email or check their inboxes.
For example, in Asian countries, the usual time to check email is in the late evening. Consider your regional demographics before clicking the send button.
Segmentation is where you break a mailing list up by various demographic factors. This ensures that your campaigns are sent out to the most relevant targets and helps increase your sales.
The time between two consecutive email campaigns plays a huge role in your open and click rates. Too frequent can irritate your contacts.
Meanwhile, they may forget who you are if you send them emails with long communication gap. It is essential to find out the best frequency for your messages according to your market and audience.
A good baseline frequency is two emails per week. (Something to take into consideration)
Add a personal touch to your emails. When you address your contacts by their first names or send them offers on their birthday, you are more likely to grab their interest. (You do partially)
Ways of using Marketing Hub, to increase your click rates.
If your email goes unopened, you can change the subject and preheader text, then try sending it again. Just make sure not to resend it to a recipient who has already opened your message. and improve your domain reputation steadily.
Using Zoho CRM templates.
If you send email to less then 500 Subscribers you can use Zoho CRM templates and your messages would be sent like a personal email. Make sure you personalize those emails.
By following the above suggestion you are likely to see a high percentage of open rate and significantly reduced the number of your emails that are automatically marked as SPAM. If you need help to set-up your CRM to improve email deliverability, please don't hesitate to contact us.

Want To Learn More About Remotely Running Your Business?